Yamaha YAS-82ZS Custom Alto Saxophone
Regular price
145,000.00 ฿
Save Liquid error (product-template line 120): Computation results in '-Infinity'%
/
---
 Yamaha YAS-82ZS Custom Alto Saxophone
      Yamaha Custom series saxophones are designed with some of the greatest players in the world and hand built by the cream of Yamaha's expert craftsman. Meticulously developed from the finest materials and built with innovative features, Yamaha Custom saxophones provide the rich sounds and expressive feel to elevate the performance level of even the best saxophonists.
      The Yamaha 82ZS has a remarkably expressive sound with a solid core that comes as a result of the hand hammered bell. An improved low B - low C# connection ensures that the low C# closes securely, giving players real confidence when playing in the lower register. The VI neck helps to create a more expressive saxophone, made possible by the more open feel that this neck gives along with a wider dynamic range. Made of a special lighter weight brass alloy.
      The brass body is left unlacquered and plated with beautiful bright silver plating. The lack of lacquer does mean occasional cleaning with a silver cloth is required in order to maintain the finish. However, the added layer of resonant precious metal gives more projection and a wonderful extra dimension to the sound.
       นี่คือหนึ่งในเรื่องตื่นเต้นที่เกิดขึ้นในวงการแซกโซโฟนร่วมสมัย นี่คือแซกโซโฟนร่วมสมัยที่ให้เสียงและความรู้สึกแบบแซกโซโฟนคลาสสิคในอดีต ได้รับการแต้มเติมด้วยโทนเสียงและกลไกทันสมัย แซกโซโฟน Custom Z มีพื้นฐานสเกลเหมือนรุ่นคลาสสิค '62' ตัวเครื่องทำจากทองเหลืออัลลอยพิเศษเพื่อให้มีน้ำหนักเบาและได้ความรู้สึกดีเวลาเป่า และมีความยืดหยุ่นของโทนเสียงตามที่คุณใฝ่ฝัน แซกโซโฟนรุ่น Z ให้เสียงที่ดีสม่ำเสมอในทุกช่วงเสียง มีไดนามิก คอนโทรลได้ตามความต้องการไม่ว่าจะเป็นเสียงดังหรือเบา คอรุ่น Custom G1 ช่วยให้มีการตอบสนองที่ว่องไวและคล่องตัว ตัวคีย์และสัมผัสมีความสมดุลย์กันดี สามารถเป่าให้ได้เสียงทุกแบบตามที่ต้องการ ตั้งแต่เสียงแบบวินเทจไปจนถึงร่วมสมัย คุณไม่จำเป็นต้องเหนื่อยเพื่อให้ได้เสียงที่ดี เพราะแซกโซโฟนรุ่นนี้มีให้คุณครบทุกสิ่ง
One-piece bell with new engraving
In the tradition of those coveted vintage saxophones, the 82Z now comes equipped with a one-piece bell. This feature drastically improves low end response and offers the player a wider palette of tonal color. More elaborate with finer detail, the new engraving design offers delicate beauty.
Metal resonator pad
The metal resonators offer an outstanding response and deliver a wider dynamic range. The entire range of the instrument has a clearer pronunciation, providing effortless playability all around.
V1 neck
The wide bore taper of the V1 neck provides a free-blowing feel and the greatest possible flexibility.
Improved Low B-C# connection
An improved mechanism from low B-C# connection ensures the consistent closing of the low C# key and promotes a clear response from notes in the low range of the instrument.
Lighter thumb hook and thumb rest bases
Lighter thumb rest and thumb hook base designs produce better response and a more cohesive tone.
Adjustable Front F key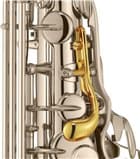 An adjustable Front F mechanism gives the player the freedom to find the optimal level of resistance in the altissimo range.
เคส
The 82Z comes equipped with lightweight case that has a shoulder strap.



YAS-82ZS




YAS-82ZB
Receiver / Integrated Amplifier
คีย์
Eb
Eb
2
ประเภท
One-piece
One-piece
การตกแต่ง
Hand engraved
Hand engraved
4
ปุ่มคีย์
Mother of pearl
Mother of pearl
คีย์เสริม
High F#, Front F
High F#, Front F
Thumb Hook (ขอยึดหัวแม่มือ)
Adjustable
Adjustable
ผิว
Silver-plated
Black lacquer
คอ
AV1
AV1
ปากเป่า
4CM
4CM
กล่องใส่
Included
Included